Cache la Poudre River Half-Day Rafting Trip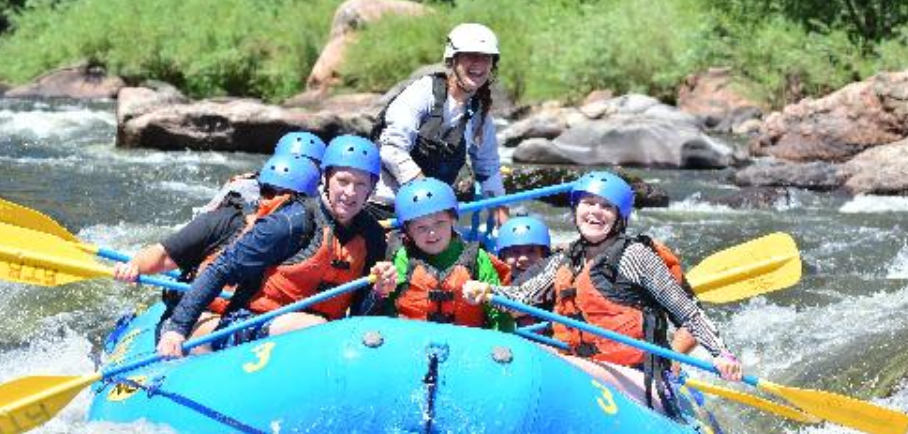 Süre: 6 Saat (Tahmini)
Lokasyon: Estes Park, CO
For your convenience, all trips meet at the Estes Park High School right in town.

Note: All rafters must be at least 7 years of age and weigh at least 50 pounds. 6 hour trip duration includes all transportation, safety briefings, and rafting. Time on river varies by water flows but is typically 1.5-2 hours.

Morning, Mid-Day and Afternoon Half Day Trips

Did you say "rapids"???
We offer two half-day trips on the Poudre River each day, and a third on weekdays.

The Poudre River (how the heck do you say it? "Poo-der". We didn't name it - we just float it). The "Poo-der" is a fast-moving river with nearly continuous Class II to III rapids and little float water. Early in the season it's usually a strong class III+. This river has the distinction of being the only "wild and scenic" designated river in Colorado and we are one of the few companies allowed to run it.

NEVER BEEN RAFTING? Don't worry, our professional guides ensure that both the first time rafter and the experienced rafters have a great time. Non-swimmers are also welcome. (If you are terrified of water, you probably shouldn't go. All the screaming is distracting to other rafters, and it's not good for business.)

Actual time on the river can vary each day depending on water flow. While each season is different, the water is usually swift-moving early in the season and slows down after the snowmelt is gone. By August some of the fun comes from dodging the rocks along the way. We'll get you wet!

Feel free to bring snacks and non-alcoholic beverages along if you like.
Trips depart from the Estes Park High School at 9:30am and 12:30pm daily. We also have a 6:45am trip Monday through Friday. (Okay, I heard you *GASP* when you read that time. Those of you from the Central Time Zone it's 7:45am for you. Before you dismiss this trip as too early, this trip is often smaller and we're often the only company on the water then. The river is all ours - it's incredible! Then you're back in time for lunch and your afternoon is open to do something else. This one runs during peak season - mid June through early August)
Call 970-577-7238 (RAFT) or 800-367-8523 for reservations as space is strictly limited on all half day trips. The U.S. Forest Service regulates the number of rafters per trip. (They have no sense of humor about this so no, unfortunately we can't just sneak you on.) During peak season we run at capacity and will turn people away, so reservations are strongly encouraged. Payment is required in advance for all trips so we know how many boats and guides we'll need.
We don't want to leave you behind - call us now!

These trips run from around Memorial Day through the end of August - sometimes Labor Day if water levels permit.
Cancellation Policy:
We go rain or shine - weather can be different on the river than it is in Estes Park. We take payment at time of reservation. We run at capacity most of the season and turn away others to hold the space for you. We reserve the space for you - you in turn agree to pay for the trip. All money is fully refundable if we are advised of the cancellation at least 7 days prior to the trip.
Within 7 days of the trip, we are happy to refund your money if given enough advance notice to resell the space. Trips resold within 7 days will be refunded minus a $5.00 processing charge per participant. No refund applies if the space is not resold before the trip.

Absolutely no refunds if you just do not show up for the trip. We turn away others to hold the space for you. Additionally, drivers, guides and meals are prearranged based on your being on the trip. These costs cannot be recouped. Thank you for understanding.

Every participant is required to sign a waiver before being allowed to raft.